build awesome boards - Bundle
the best way to learn making boards
With this set, success in board building is guaranteed.  You can get started right away as everything is included to build a wide variety of boards. 
And once you get used to it, you can use the included veneer sets to build the most colorful and unique boards.
special features:
precise shape

 

thanks to the included board shaper
perfect truck holes

 

even after 300 boards, because of the metal inserts for easy drilling
easy to learn with a step-by-step instruction video
everything included

 

to start building the boards: even the tools
awesome board shape, which is loved by a lot and great to ride
matching products that have been tested a thousand times
THE BUNDLE INCLUDES THESE PRODUCTS:
1x Fingerboard Construction Kit (Beginner):

1x Standard-Shape-Mold with metal plates and guidance holes
1x Fingerboard Shaper (dimension 98 x 32 mm)
1x set of mold screws
15x wood plies to build 3 boards

 

(maple veneer) 
1x wood glue
3x smooth grip tape
1x example graphic for your first board
1x instruction sheet
1x step-by-step

 

video

 

instruction
1x additional veneer (3 Boards)
1x colored veneer pack (6 Boards)
1x special veneer pack (6 Boards)
1x tool kit
build at least 18 boards
Customer Reviews
11/25/2023
Anonymous

Australia
I recommend this product
Create your skate
Thank you so much!!
06/10/2023
Anonymous

United States
I recommend this product
Very good product!
Kit has everything I needed to start building my own fingerboards. The online tutorial was a huge help as well! I would highly recommend this kit to anyone.
02/03/2023
Lisa P.

Australia
I recommend this product
My son is obsessed
This set is awesome, my son has made the made amazing boards. He's only 13 and this is definitely his 'thing'. Thank you so much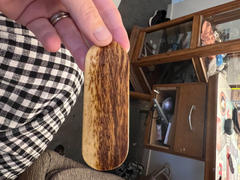 03/03/2023
Create Your Skate
Hi Lisa, thank you so much for this nice review. Thats exaclty when i started building boards decades ago :D. So cool to bring this hobby to other teens. Maybe he gets as much obsessed with building boards like me ;) Cheers Dennis
01/03/2023
Patrick P.

United States
I recommend this product
My son loves it. He has made several finger boards
My son loves it. He has made several boards. His friends are all making requests for custom boards. Its nice to see him making things verses hours staring at the computer playing games. The veneers supplied worked really well. He used them all up and bought some more at a local shop. He had much better results with the veneers supplied.
02/06/2023
Create Your Skate
Hi Patrick, this review is awesome.Its so cool to hear that your son prefer to build boards now instead of looking into the screen all day long ;) mission accomplished! :) and yes, we choose our veneer very specific so its the best you can buy for building fingerboards. have fun! Dennis
11/28/2022
Kyle H.

United States
I recommend this product
Good Stuff!
Not much of a learning curve. I was able to get a good quality deck right away,
12/23/2022
Create Your Skate
Hi Kyle, thank you for this great review. I really hope this helps a lot of people! Cheers Dennis
Delivery is free of charge from the following order value:
Germany: 49 €
Europe: 149 €
Rest of the World: 199 € (220 USD)
Click
here
to see shipping costs for smaller orders.
I discovered my passion for fingerskateboarding at an early age and my creative streak constantly drove me to find a way to build my own fingerboards. The result are professional fingerskateboard-molds with which you can build high quality and unique boards in no time at all. In combination with the ramp-molds and the pocket-rail, you can build your own skate world.
Dennis
Founder of CREATE YOUR SKATE
get creative together
Whether with your best buddy or with your family, with our products you can use the time creatively together. It is well known that the best works are created together.
become part of the community
Each of us is unique, as are the results with our products, and yet we all share a passion for fingerskateboarding. Be part of our worldwide community and be inspired by other artists and riders.
Rock your selfmade products
The fun doesn't end when your board, ramp or spot is finished. Now things really start: Practice tricks with your selfmade products and get better every day!