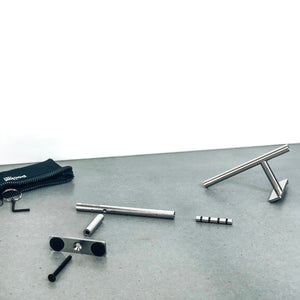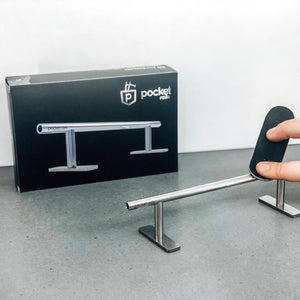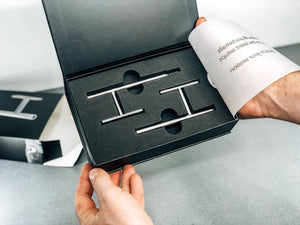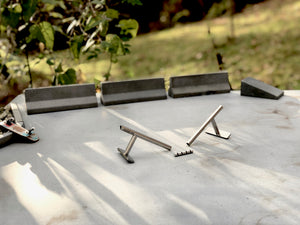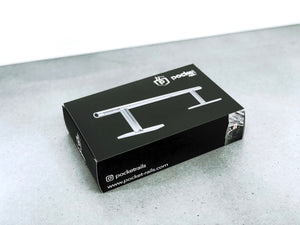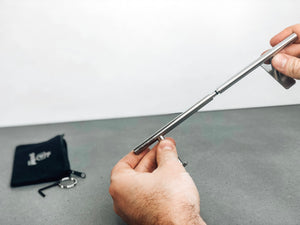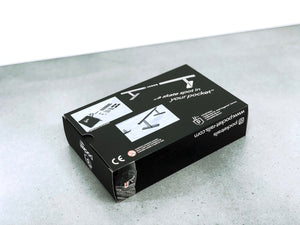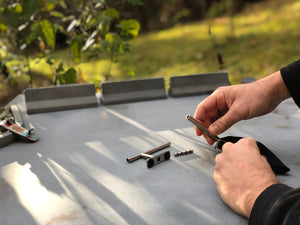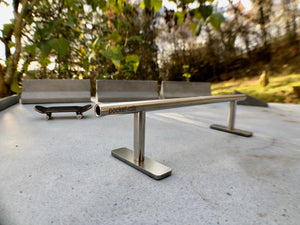 "a skate spot in your pocket"
Turns every location into a skate spot and fits in your pocket. The assembled rail is 230mm long and 50 mm high. Pocket and tool are included. 
special features:
ready for use in seconds (even without a tool)
fits in every pocket
precisely made of stainless steel
grinds and slide really smooth (quote from Mathis Baumgart)
modularly expandable with add-on parts
included:
1x pocket-rail (inkl. connector)
1x pocket
1x tool for the feet
1x storage box
All pocket-rail items are made of high quality stainless steel - for durability, stability and a unique sliding experience!
Customer Reviews
01/10/2022
Niko S.

Finland
I recommend this product
6stars
Even better quality than expected. Have used it almost every day since got it. Really quick shipping and really good customer service
01/10/2022
Create Your Skate
Wow! Thank you so much for that great review. We have the best customers :)
12/15/2021
Leonard R.

Germany
I recommend this product
Best round rail u can get!
Easy to use, easy to construct and deconstruct again. The stoppers are really good and the rail slides like butter! The bag is high quality mesh and feels good. Overall 10/10 would buy again
01/20/2022
Create Your Skate
Thank you for sharing your review :)
07/11/2021
Matt B.

United States
I recommend this product
Get a pocket rail or two if you haven't already!
Absolutely love the pocket rails I bought and the add-ons that go with it. This rail is totally customizable and unique. Highly recommended!
03/02/2021
David G.

Israel
I recommend this product
Very good product
Dennis is an awesome dude with a very very good customer service. Really liked the rail and it built very well. Very recommended
02/01/2021
Fabi

Germany
I recommend this product
Perfect rail for travelling
If you've ever been out with friends and brought a rail with you, you know how bulky and annoying it can be in your backpack. This rail just fits in your pocket! In addition, there are so many expansion options that it never gets boring. The perfect rail for long outdoor sessions in summer.
Delivery is free of charge from the following order value:
Germany: 49 €
Europe: 149 €
Rest of the World: 199 € (220 USD)
Click
here
to see shipping costs for smaller orders.
I discovered my passion for fingerskateboarding at an early age and my creative streak constantly drove me to find a way to build my own fingerboards. The result are professional fingerskateboard-molds with which you can build high quality and unique boards in no time at all. In combination with the ramp-molds and the pocket-rail, you can build your own skate world.
Dennis
Founder of CREATE YOUR SKATE
get creative together
Whether with your best buddy or with your family, with our products you can use the time creatively together. It is well known that the best works are created together.
become part of the community
Each of us is unique, as are the results with our products, and yet we all share a passion for fingerskateboarding. Be part of our worldwide community and be inspired by other artists and riders.
Rock your selfmade products
The fun doesn't end when your board, ramp or spot is finished. Now things really start: Practice tricks with your selfmade products and get better every day!