Fingerboard Construction Kit (Expert)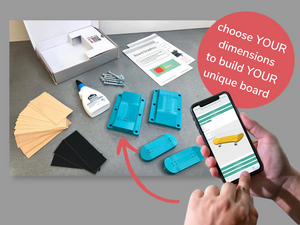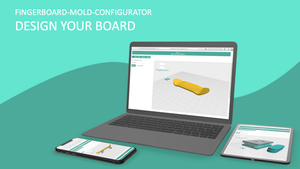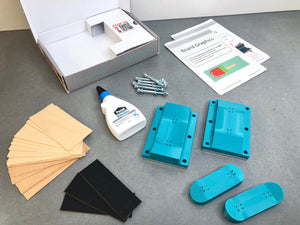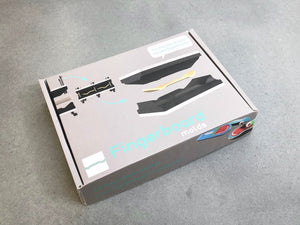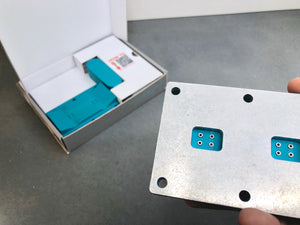 your choice if you're looking for your own shape
For those who not only want to build their own fingerboards, but also want to choose their dimensions individually.
special features:
3D-Configurator: design your board and mold online with our Fingerboard-Mold-Configurator. Easy to use for everyone.
precise shape thanks to the included fingerboard shaper
perfect truck holes even after 300 boards, because of the metal inserts for easy drilling
easy to learn with a step-by-step instruction video
everything included to start building the boards *
option for several shapes with one mold: you can order several additional shapers for your mold, so you can build boards in different width and/or shape with just one mold. 
included:
1x Custom Shape Mold with metal plates and guidance holes 

(board dimensions according to your configuration)

1x Custom Fingerboard Shaper (shape dimensions according to your configuration)
1x set of mold screws
15x wood plies to build 3 fingerboards (maple veneer) 
1x wood glue
3x smooth grip tape
1x example graphic for your first fingerboard
1x instruction sheet
1x step-by-step video instruction
Click here to go to the Fingerboard-Mold-Configurator and follow the steps. Place your order and send us your configuration to info@createyourskate.com. If you order several additional shapers for your Expert-Mold, please let us know these details in your email as well. If there is any information missing or some open question, we are happy to get in touch with you via email.
*tools are not included in that product. If you need tools like a fretsaw, drill bit and allen key, then click here
Customer Reviews
09/17/2023
Clara H.

Germany
I recommend this product
Great product
Super happy with the results of the mold!
09/19/2023
Create Your Skate
Hey Clara, awesome to hear. this makes us happy :) Have fun building boards. Cheers Dennis
08/31/2023
Paavo L.

Finland
I recommend this product
10/10 mold !
mold is great, perfect for beginners and also for more experienced deck makers !
09/26/2023
Create Your Skate
Hey Paavo, thank you so much for sharing your review :) Cheers Dennis
08/21/2023
onetrakmusic

United States
I recommend this product
This has really made my summer
I believe the expert mold is a MUST HAVE for people who have spent a lot of time in the fingerboard scene and are looking for something new to engage in. At first I was a bit intimidated by the mold configurator, but if you have experience using different deck shapes, then it will be easy to have an image of the deck in your mind. Overall, I was immediately very happy with how my first expert mold shape came out, and I don't think I could've done it without such an intuitive app. Unfortunately, when I got the expert mold it was missing one of the screws so I could not immediately make a deck, but Dennis of Create Your Skate was very nice and sent me a whole set of 6 screws and gave me some extra veneers. Incredible customer service! I've now made 4 decks and gifted some to friends. Super stoked to have added a ton of depth to my hobby, and excited to express my creativity in a new way. Thank you!
08/21/2023
Create Your Skate
hi, thank you so much for this great review. Your board is looking sooo good and its nice to hear that you gave a way a few board to your friends! have fun! Cheers Dennis
08/05/2023
Anonymous

United Kingdom
07/08/2023
Sean

United States
I recommend this product
EXCELLENT MOLD 5/5 STARS
The potential for fingerboarding is limitless with all that Create Your Skate offers. Making the process of manufacturing your own mold simple and easy. I Would recommend the expert mold to anyone looking to build their own shape. Everything from performance to packaging was exceptional. Create Your Slate customer service makes for any questions or concerns a breeze. Thanks for everything Dennis and Create Your Skate.
08/04/2023
Create Your Skate
Hi Sean, thank you so much for sharing your review. Means a lot to me :) Cheers Dennis
Delivery is free of charge from the following order value:
Germany: 49 €
Europe: 149 €
Rest of the World: 199 € (220 USD)
Click
here
to see shipping costs for smaller orders.
I discovered my passion for fingerskateboarding at an early age and my creative streak constantly drove me to find a way to build my own fingerboards. The result are professional fingerskateboard-molds with which you can build high quality and unique boards in no time at all. In combination with the ramp-molds and the pocket-rail, you can build your own skate world.
Dennis
Founder of CREATE YOUR SKATE
get creative together
Whether with your best buddy or with your family, with our products you can use the time creatively together. It is well known that the best works are created together.
become part of the community
Each of us is unique, as are the results with our products, and yet we all share a passion for fingerskateboarding. Be part of our worldwide community and be inspired by other artists and riders.
Rock your selfmade products
The fun doesn't end when your board, ramp or spot is finished. Now things really start: Practice tricks with your selfmade products and get better every day!